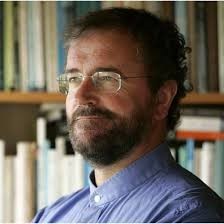 The start of a new week as we try to cope with a new way of living 'faoi scath a cheile' (in the shadow of each other).
We have been told repeatedly over the past two weeks that what is vital is to try to slow down the spread of the virus, and the best way to do that is by creating a distance with others outside the home. I'm mindful of a line from the writer Kibran in his lovely book of reflections the Prophet,
'Let there be spaces in your togetherness'.
At a minimum we are asked to create a space of 2 meters from each other. Try to spread the message & stay well.
Fr Michael
---
Below is a very appropriate reflection sent to me this morning, written many years ago by John O' Donohue who ministered as a priest for many years in the Galway diocese.
A time to be slow

"This is the time to be slow,
Lie low to the wall
Until the bitter weather passes.

Try, as best you can, not to let
The wire brush of doubt
Scrape from your heart
All sense of yourself
And your hesitant light.

If you remain generous,
Time will come good;
And you will find your feet
Again on fresh pastures of promise,
Where the air will be kind
And blushed with beginning."
John O'Donohue,

To Bless the Space Between Us: A Book of Blessings