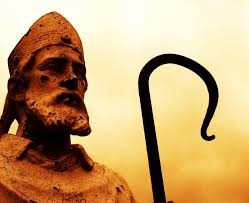 Lá Fhéile Pádraig - On this Saint Patrick's Day ...
On this Saint Patrick's Day, a day when we are sadly prevented from publicly joyfully celebrating our national identity and culture.
I pray the peace and blessing of our loving God and Patrick:
on our community; families; all those living alone and loved ones presently dwelling abroad.
I pray for any one burdened by worry & fear. May you find strength, inner peace and support to sustain you.
Thoughts and prayers go out to anyone suffering physical ailment. May you be restored to good health through inner strength, loving care and medical support.
I ask you to join with me in prayer for Doctors, nurses, health workers; all of you involved in the caring profession and essential services, including personnel working in dispensaries, shops and supermarkets. May you have a precious sense of the comfort and hope you bring to people through your dedication and kindness.
Finally, I pray and thank God for the care and support palpable in so many ways.in our community during this challenging time.
Beannachtaí na Féile Pádraig ar
Chlann mhór domhanda na nGael,
sa bhaile agus ar fud na cruinne,
Ar an lá náisiúnta ceiliúrtha seo
Le Dhea Ghui
Fr Michael
---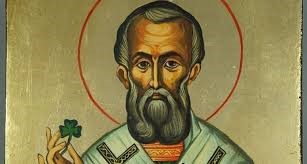 Mass will be broadcast here in the parish at 10 a.m. in the morning.
Rosary will be prayed beforehand at 9.45 a.m.
The 2 hymns most associated with the feast will be sung.
The sentiments and prayers have a particularly significant meaning for all of us at this time…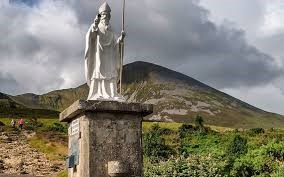 St Patricks Day:
Hail, glorious St. Patrick, dear saint of our isle,
On us thy poor children bestow a sweet smile;
And now that you're high in your mansions above,
On Erin's green valleys look down with your love.

On Erin's green valleys, on Erin's green valleys,
On Erin's green valleys look down with your love.


God bless and defend the sweet land of our birth,
Where the shamrock still blooms as when thou wert on earth,
And our hearts shall yet burn, wherever we roam,
For God and St. Patrick, and our native home.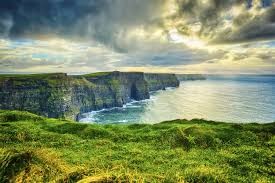 Dóchas linn Naomh Pádraig
Dóchas linn Naomh Pádraig, aspal mór na hÉireann.
Ainm oirdhearc gléigeal, solas mór an tsaoil é.
D'fhill le soiscéal grá dúinn, ainneoin blianta 'ngéibheann,
Grá mór Mhac na Páirte d'fuascail cách ón daorbhroid.

Véarsa 2:
Sléibhte, gleannta, maighe, 's bailte mór na hÉireann,
Ghlán sé iad go deo dúinn, míle glóir dár naomh dhil.
Iarr'mid ort, a Phádraig, guí orainn na Gaela,
Dia linn lá 'gus oíche, 's Pádraig aspal Éireann.


Verse 1:
Our hope is St. Patrick, great apostle of Ireland.
A renowned and pure/bright name; a great light to the world.
He returned to us with the gospel of love,
despite years of bondage.
The great love of God's beloved son that freed all from slavery.


Verse 2:
Mountains, glens, plains, and great cities of Ireland,
He purified them for us forever; great glory to our dear saint.
We implore you, O Patrick, to pray for us, the Gael.
God with us day and night, and Patrick Ireland's apostle